It doesn't seem like it's only 1 week ago that we were kicking off the 2nd L&D Connect Unconference (#ldcu)…
If you missed it there's a Storify you can read and my good friend Sukh Pabial (@sukhpabial) wrote a pretty comprehensive piece here with links to other post-LDCU blogs. For reference, I wrote the post "Shwopping Learning" about last years inaugural LDCU Unconference.
Reflections
I've been pondering what I took from LDCU…  Throughout, whether helping over the last 10 week with a dozen others to make it happen, or on the day itself, I found LDCU again to be an enjoyable and enriching experience.
The "me time" at LDCU afforded myself and others strength, ideas and support for individuals to take their next steps.  Being BOLD was one of the emergent themes, beautifully captured by Simon Heath (@SimonHeath1) here :-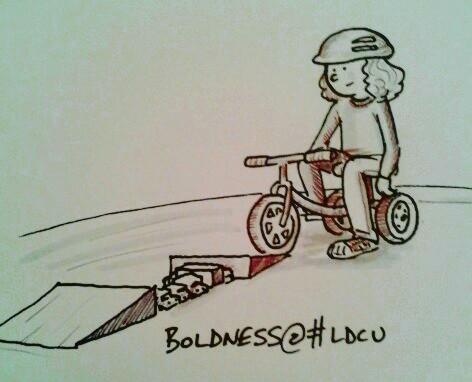 There were lots of familiar & new faces. Some I got time with and got to know better, others I must endeavour to reach out to – another year is too long to wait.
There were lots of excellent discussions. Some discussions created connection, whilst others I found became wonderfully generative conversations – again time was the killer.
The facilitation was a delight to behold – it takes something special to stand up in front of your peers and make things happen brilliantly. Bravo!
Dialogue
Perhaps more importantly, and I think the hidden gem in LDCU, was the start of Dialogue…
Most vivid in my mind was the last table conversation with about a dozen of us where this theme of "BOLD L&D" was discussed.  It was a conversation between equals.  We were able to engage in an exploring discussion whilst also being able to talk about our reactions to others comments, our new thinking.  I think at some level of group unconscious-competence it had the starting elements of Dialogue.
If you can, take the time to explore what is meant by Dialogue in this paper "Dialogue – A proposal" by David Bohm, Donald Factor & Peter Garret.
The lovely Julie Drybrough (@Fuchsia_Blue) has been opening my eyes to Dialogue and I'm finding this awareness helping my practice. This experience at LDCU has shown just how important generative, hierachy free Dialogue is for both communities and the L&D profession.
Time to start planning the next Dialogue based Unconference?  What do you think?